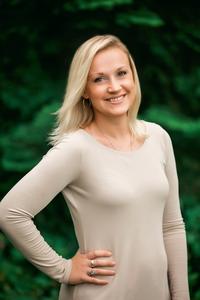 Scarlet joined the Thunder Lake Realty team in January of 2016, and is currently an agent. Having been raised in the Federal Dam/Longville area, she knows the people, lifestyle, and the area well. She graduated from Northland High School in 2005, and had moved to the East Coast where she worked for Aflac Insurance for several years.
In 2011, Scarlet and her husband Bryan moved back to the area. They have 3 amazing children together, and enjoy traveling, snorkeling, camping, fishing of all kinds, hunting, bonfires, and raising their kids.
Scarlet is dedicated and passionate about working with and coaching the youth of the community. She coaches junior varsity volleyball for Northland, has been involved in both the Junior Olympic program through Central Lakes College and the Northland Elementary volleyball program.
"I love to help people, and I love to listen, and I enjoy a challenge!" So if you're thinking about starting a new chapter in your life, whether you're thinking of buying, selling, or wanting to know what's next, give Scarlet a call! She's ready to get to work for you.